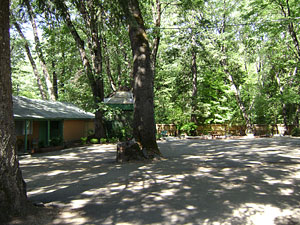 Welcome to the Cedar Lodge Motel,
in historic Dunsmuir, California!
Owners Mike and Sylvia Robinson invite you to come and stay at the Cedar Lodge in beautiful Dunsmuir.
If you visited the Cedar Lodge during the 1980s and 1990s, you may remember Mike and Sylvia, and their commitment to providing you with a clean, comfortable and cozy place to stay. The Robinsons reacquired the Cedar Lodge and worked tirelessly to restore everything to their high standards. All of the rooms have been completely renovated.
Also returning to the Cedar Lodge is the very popular bird aviary featuring exotic birds from the far reaches of the globe.
The Cedar Lodge is located on large, tree-shaded, landscaped grounds with adequate parking, and a picnic and barbecue area, in the northern part of beautiful and historic city of Dunsmuir, just off exit 732.
The Upper Sacramento River, Hedge Creek Falls, and several other sites and local attractions are within easy walking distance. The Mt. Shasta Ski Park is just a short 20 minute drive away. So come stay and ski or snowboard!
---